Hi!
Today marks Welcome Sunshine Home's one month blogging anniversary. I can't believe it has been that long already!
We attended the Maine Home and Design Midcoast Show in
Camden
on Saturday. We'll be sharing our experience later this week. Isn't Jake a good sport?
My
recycled gift tag
is being
featured
by Stephanie Lynn at Under the Table and Dreaming! :) Now there's some inspiration to keep going.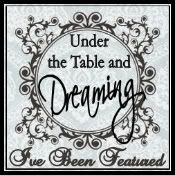 I'm off to bake now. Yup, that's right. 1) I'm baking (sort of). 2) I'm baking on a Monday night. My department's management team is preparing a nice homemade breakfast for Employee Appreciation Week tomorrow morning. It's a Paula Deen recipe so it's sure to have lots of butter but should taste great. More on that later this week.
Thanks for stopping by!