Hi there! We're alive and well over here at Welcome Sunshine Home. Just super, ridiculously BUSY with our day jobs and this ol' blog is our hobby. We'll soon be back to sharing projects regularly so don't give up on us yet! :)
I'll be sharing some more gifts that I sewed for Christmas 2010 soon. I started a king sized quilt but haven't had time to work on it since January 9th. Ok, my memory isn't
that
good. I only know the exact date because that's the last time I watched anything instantly through Netflix (British series
Monarch of the Glen
) and I noticed when I logged into my Netflix account earlier. :) Any way, that king size quilt isn't going to sew itself and I'm hoping to get back to it soon.
How many craft, sewing, and house projects do you usually have going at once? I always have different projects started and even more in mind (heck, I have a fistful of paint swatches in my purse right now). Here are some projects that I already have all (or most) of the supplies necessary to complete the whole project.
Sewing
Quilt to be completed before winter 2011
Top Secret Christmas 2010 Birthday Gift for Melissa
Apron using fabric received from Laura in Fall 2010
Purse fabric and pattern purchased Fall 2010
Aprons using fabric and patterns purchased April 2010
Home

*
Master Bedroom closet purge/organization started September 2010 - It is thisclose to being done!
Finish staircase renovation started March 2010 (um, yeah, 2010)
Kitchen pantry purge and organization started Fall 2010
3rd floor office to craft cave started Fall 2010
Transform back room off kitchen into new office
*Lesson learned: Fall is not the time to start new home projects!
Crafts
Spring mantle and more...Jeez, I can't give away all my secrets and plans at once!
Recipes
Pineapple Fried Rice
A whole bunch of stuff that I know I took photos of and can't think of right now...
Just for Fun
Concerts, baseball, board game parties, vacation, home show, etc
Books
I recently started rereading
George R.R. Martin's The Song of Fire and Ice series
since the long-awaited
A Dance with Dragons
is coming out July 12th! I've only ever read books 1-3 so no spoilers please... I'm also planning to reread the Harry Potter series in 2011. What's your favorite book series?
Are you familiar with the 'Gitter Done' party at
Songbird
? Donna from
Funky Junk Interiors
used to host it. It's a place to share
anything
that you've finished. It doesn't have to be pretty, cute, or even be a project. It can be as simple as finally getting caught up on all your shredding. Which I had done but now it's piled up again. Grr. Considering all the different things I listed above that I have available to work on, I'm hoping to have at least one thing a month to link up. :)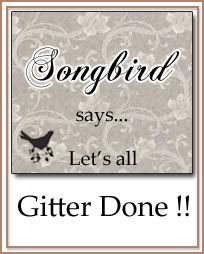 So, what's happening at your place? Have you marked anything
off
your to-do list in 2011? Jake said my to-do list for 2011 must include "Get longer to-do list."