Hi!
We're participating in New Friend Friday, Follow Me Friday, Blog Hop Friday, and Friendly Friday Follow this week. Any comments and followers are welcome. Don't be shy! We'll do all follow backs by Tuesday. Thanks for stopping by today and come visit again soon!
This week we are...
1. Celebrating our one month blogging anniversary
here
2. Trying a yummy Paula Deen blueberry coffee cake recipe and Alison's apple adaptation
here
3. Celebrating Brewster's first birthday
here
4. Sharing our Maine Home and Design Midcoast Show experience
here
5. Enjoying my first feature
here
.
Thank you to Stephanie Lynn! :)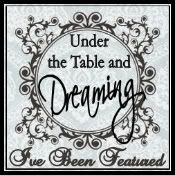 6. Loving our new blog design done by Mary at
Bright Sunshine Designs
.